What is Biocompatibility?
At Naturium, we believe true efficacy hinges on biocompatibility. But what is biocompatibility? We use natural ingredients, along with safe synthetics that the body can recognize, process, and use efficiently, without irritation, sensitization, or disruption of the skin. Read more to learn what this term means.
Naturium formulas are efficacy driven with an emphasis on safety and biocompatibility. Our formulas both support and work in synergy with the skin, thus enhancing the skin's own health and biological processes. In other words, our formulas are biocompatible, a term that stems from the medical field. It means the ability of a medical device to interface with living tissue without toxicity, harming physiological processes, or inducing an immunological response. If the body does not recognize and accept the device, the device will be marked as foreign, causing the body to reject it. Translating this to personal care, a product is biocompatible if it is effective without impairing the skin's physiology, causing irritation, inducing an allergic reaction, causing congestion, or harming the skin in any way. Biocompatibility is about delivering the active to the site of action, with minimal disruption and in harmony with the skin. Naturium was built on this school of thought: Clinically Effective, Biocompatible Skincare.
Naturium was built on this school of thought: Clinically Effective, Biocompatible Skincare.
Our formulas are skin activated and have a synergy for the skin, working in harmony and respect towards skin to meet its biological needs. Skin's biological processes become imbalanced due to a number of internal and external factors, such as UV exposure, chronological aging, pollution, and environmental stressors, which lead to sun spots, hyperpigmentation, dehydration, congestion, wrinkles, sallowness, and more. Our formulas restore skin back to its healthy and radiant appearance by working in harmony with the skin's own physiology to deliver maximum efficacy. Efficacy of a formula hinges on its biocompatibility. We believe it's impossible to achieve healthy, nourished skin with formulas that are unbalanced or incompatible.
Biocompatibility goes beyond "natural" and "clean" beauty, encompassing both botanical and safe synthetics that are proven to work. Naturium is committed to using only ingredients that either directly benefit the skin's health or support the integrity and effectiveness of our formulations. The delivery system of a formula as well as its pH are just as crucial to a product's efficacy as the active ingredient. Naturium formulas are not only efficacious, but also have a clear focus on biocompatibility. We use a biocompatible system to make our active ingredients bioavailable, without causing irritation or disrupting the skin, for both the immediate and long term wellbeing of skin. We test pH levels, always making sure our active ingredients remain efficacious, yet respectful and supportive of the skin's acid mantle. All products are tested for irritation and sensitization, a key to biocompatibility. We select ingredients that have a high affinity for the skin and which the skin can recognize and process, minimizing irritation and adverse reactions.
Biocompatibility can be seen as an umbrella, encompassing clean and efficacious skincare. There are many facets to biocompatibility, many containing the prefix "bio," meaning "life," since skin is a living organ. We will take a look into the complexity of biocompatibility through the study of some of its many facets, which alone make for good skincare products, but together make for great "life"-changing products.
Bioavailable: The term bioavailable refers to the rate and extent of availability of the active ingredient at the site of action, such as the epidermis or dermis. It is the efficiency with which your body can use the active ingredient. Simply using a product with a high level of an active ingredient does not ensure the active ingredient will be effective on the skin. There are a few conditions that need to be met to provide high bioavailability. The active ingredient must partition or release from the formula itself, then the active must be able to diffuse through the various layers of skin. This is dependent on a number of factors, including use level of the active, the properties of the active, the contact time of the product on skin and the uniformity of application on skin.
Biofunctional or Bioactive: These terms can be used interchangeably and mean that the ingredient has a biological effect on the skin. The ingredient is not inert or sitting on the surface of the skin (unless it is meant to, like sunscreen filters), but targeting a specific mechanism of the skin to give results.
Biomimetic: A biomimetic ingredient is structurally or functionally the same as a component naturally found in the skin. That means, the ingredient mimics what is naturally in the skin and your body does not know the difference or process it differently. By utilizing biomimetic ingredients, we reduce chances of clogging pores or irritating skin, and improve skin health by replenishing what the skin needs and understands.
Biotechnology and Biofermentation: While we try to use botanical ingredients where possible, sometimes we use ingredients that are created or processed using specialized technology to improve sustainability or ingredient efficacy. One of our most utilized ingredients is a vegan squalane that comes from sugarcane. This is made possible through biotechnology or more specifically, biofermation, which is yeast fermentation of plant sugars. This process is sustainable and creates a renewable green emollient with many skin benefits.
Biobased: This means we select ingredients that are botanical and come from nature as often as possible. We include safe synthetics for the integrity of the formula or to enhance efficacy, but we like to rely on mother nature, who provides ingredients packed with phytonutrients and innate vitamins.
Safe: Although the word "safe" does not contain the prefix "bio," it is a key facet to biocompatibility. All Naturium formulas are tested for irritation and sensitization.
Experience skincare that your skin will embrace and activate.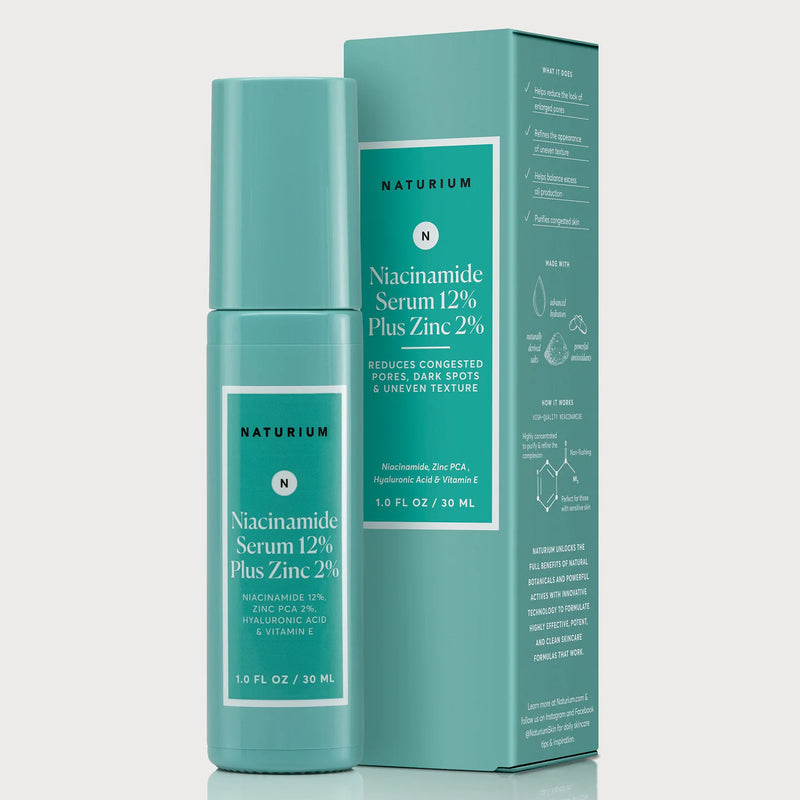 Niacinamide Serum 12% Plus Zinc 2%
30 ML / 1.0 Fl OZ Our concentrated niacinamide serum is formulated with pure 12% niacinamide and 2% zinc PCA, and is clinically proven to reduce t...
View product page