Intense Overnight Sleeping Cream: The Cream That Works While You Sleep
Did you know that during sleep, your skin undergoes intense repair, working to regenerate itself up to three times faster than when you're awake? The skin is also more permeable at night and can better absorb active ingredients during that time. This is why we formulated our innovative Intense Overnight Sleeping Cream; to lock in skin care while you sleep, so as to wake up feeling refreshed and glowing. Read more to learn about our overnight facial-in-a-jar.
The aim of our Intense Overnight Sleeping Cream is to maximize the therapeutic benefits of your skincare regimen, by increasing ingredient bioavailability. The sleeping cream increases skin hydration while forming a breathable film, to act as a skincare sealant. This cushiony balm locks in moisture overnight and, when layered over your skincare regimen, boosts penetration of active ingredients. Hydrating the skin, increasing water content within the stratum corneum, causes reversible swelling of the corneocytes while temporarily revising the structure of skin lipids, or lipid barrier. This process increases penetration of active ingredients in your skincare products.1,2 Our sleeping cream contains high levels of humectants including glycerin, propanediol, and tremella fuciformis sporocarp extract, to achieve long lasting hydration that you can feel the next day. Our sleeping cream also contains hyaluronic acid to create a long lasting moisture reservoir, further promoting absorption of skin actives.
We also utilize a lightweight film forming technology, vegetable in origin, that facilitates the delivery of active ingredients without leaving a greasy or sticky sensation. This material has excellent skin compatibility and does not inhibit natural cutaneous respiration. Our film former has a low melting point, so when applied to the skin, it readily softens, allowing a quick release of active ingredients in the sleeping facial, including skin-brightening wild Australian kakadu plum. Part of bioavailability hinges on the liberation of active ingredients from a product and this unique film former does not hinder active ingredient liberation or skin absorption.3 Wild kakadu plum is high in vitamin C and increases visual skin radiance and luminosity. It helps even skin tone and reduces both redness and fine lines. Wild kakadu plum is a natural cocktail of antioxidants, containing gallic acid, ellagic acid, and polyphenols, which reduce oxidative stress that can lead to uneven tone, degradation of collagen, and skin inflammation.4 Wild kakadu plum has also been shown in-vitro to induce expression of SVCT1, necessary for epidermal vitamin C uptake, which can potentially help make your vitamin C skincare products more effective.5
The aim of our Intense Overnight Sleeping Cream is to maximize the therapeutic benefits of your skincare regimen by increasing ingredient bioavailability.
Our sleeping cream also contains biomimetic squalane, to soften skin and create a light protective barrier, reducing skin water loss while you sleep. Circadian rhythm plays an important role in the skin, influencing transepidermal water loss, skin temperature, DNA repair, and keratinocyte differentiation. Studies indicate that transepidermal water loss and skin permeability peak in the evening.6,7 This means, our hydrating sleeping cream may have a therapeutic boost when used in the evening.
Our sleeping cream will take your skincare regimen to the next level, making your products more effective and giving you a radiant glow the next morning.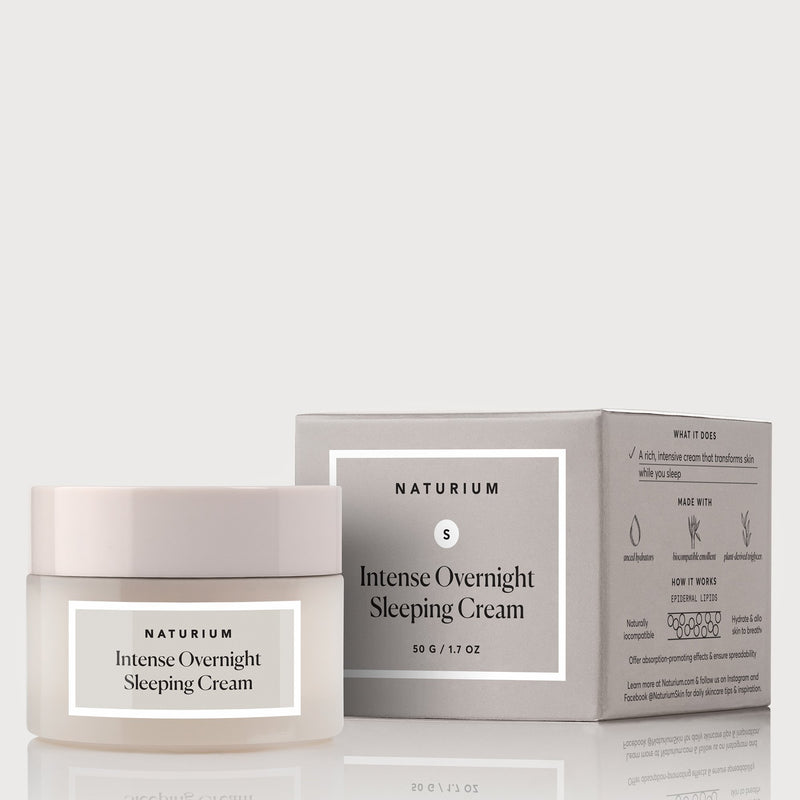 Intense Overnight Sleeping Cream
50 G / 1.7 OZ Our intensive sleeping cream is formulated with nutrient-rich ingredients and lipids to deliver essential moisture while you sleep. F...
View product page