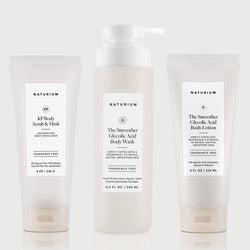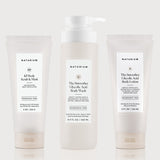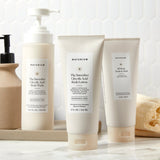 The Glycolic Acid Body Bundle
This body scrub + mask, wash, & lotion trio works as a triple threat to exfoliate and resurface rough, bumpy texture, revealing softer, smoother skin.

The Smoother Glycolic Acid Body Lotion: Our glycolic acid body lotion exfoliates and resurfaces to reveal softer skin. Formulated with high-purity 10% glycolic acid, this lotion effectively works to smooth texture and brighten tone, decreasing the appearance of dark spots. Plus, our nourishing shea butter helps boost skin's moisture, revealing healthier looking skin.
KP Body Scrub & Mask: Our 3-in-1 body exfoliant instantly transforms bumpy, dry, rough, and dull skin. Formulated with pumice and jojoba esters, plus AHA/BHA/PHA chemical exfoliants, the scrub grips, polishes and smooths skin. Use as a mask for an effective in-shower treatment.
The Smoother Glycolic Acid Exfoliating Body Wash: Our glycolic acid body wash exfoliates and resurfaces rough and bumpy texture to reveal softer, smoother skin. Formulated with an AHA blend including glycolic, lactic, pyruvic and tartaric acids, our cleanser sloughs off dead skin cells while red algae hydrates for softer, smoother more supple looking skin. Can also be used as a facial cleanser.