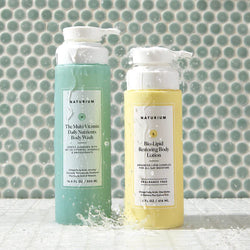 The Daily Nutrients Body Bundle
Our multi-vitamin body wash and replenishing body lotion for healthy and hydrated skin all over.
The Multi-Vitamin Daily Nutrients Body Wash: Our daily, nutrient-rich multi-vitamin body wash is formulated with mild, plant-based surfactants to remove dirt, oil and other impurities while supporting the skin's NMF (natural moisturizing factor) balance. This cleanser also features an amino acid composition, vitamins and minerals that replenish, energize and maintain healthier-looking skin.
Bio-Lipid Restoring Body Lotion: Our replenishing body lotion works to restore skin's natural barrier for soft and supple looking skin. Formulated with omega fatty acids, shea butter, B vitamins and sodium PCA, this lotion moisturizes skin and absorbs quickly with no greasy residue.

Bundle Kits will arrive in our standard shipping boxes and do not include special packaging.

Bundle Kits are Final Sale and not eligible for additional discounts or coupon codes.