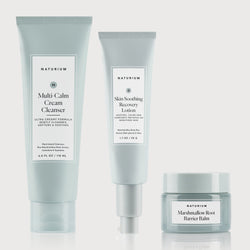 Sensitive Skin Bundle
Our newest collection of products soothe and moisturize your skin. They are extremely gentle and feature ingredients like marshmallow root, arnica and beta glucan.
Multi-Calm Cream Cleanser - An ultra creamy formula that gently cleanses, softens & soothes.
Skin Soothing Recovery Lotion - A creamy moisturizer that soothes, calms and comforts irritated or sensitized skin.
Marshmallow Root Barrier Balm - Thick and luxurious, this soothing balm locks in moisture and helps strengthen the skin barrier.
Bundle Kits will arrive in our standard shipping boxes and do not include special packaging.