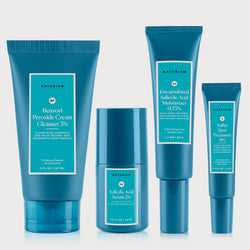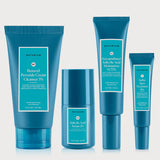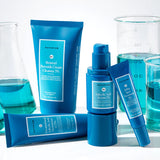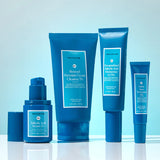 Acne Bundle
Clinically effective-biocompatible acne solutions are here. Our newest collection of acne fighting products clarify the skin without the irritation. These skin-friendly acne treatments are formulated with blemish fighting actives that target acne and prevent breakouts from forming.
Benzoyl Peroxide Cream Cleanser 5% 
Our cleanser is formulated with an efficacious level of micronized benzoyl peroxide to clear acne blemishes and prevent new breakouts from forming. N-acetyl glucosamine, a biocompatible amino sugar, is added to help maintain healthy looking skin while reducing dryness. Our acne clearing treatment helps unclog pores, prevent blackheads and combat acne-causing bacteria. Ideal for most skin types and pH-appropriate to help maintain an optimal hydration balance. Gentle enough for daily use. 
Salicylic Acid Serum 2% 
Our clarifying serum is formulated to help clear up and prevent new acne blemishes while maltobionic acid helps exfoliate for a healthier looking complexion. Gentle enough for daily use. 
Encapsulated Salicylic Acid Moisturizer 0.75% 
Our daily acne-fighting moisturizer is formulated with the ideal amount of salicylic acid to maintain clearer looking skin. Formulated with 0.75% encapsulated salicylic acid, this moisturizer refines, hydrates and soothes blemish-prone skin. With an added highly purified octadecenedioic molecule, this moisturizer also helps target the appearance of dark spots for a brighter looking complexion.
Sulfur Spot Treatment 8% 
Our targeted spot treatment is formulated with 8% sulfur to clear and reduce acne blemishes. Added niacinamide and fermented reishi help visibly brighten while maintaining a healthy skin barrier.